What Is Spironolactone?
Spironolactone is used to treat high blood pressure and heart failure. It is also the most common medication prescribed by dermatologists for treating adult acne, and it promotes an effective cure for hormonal adult acne in women. Studies have confirmed that regular Spironolactone (as prescribed by the health practitioner) helps cure adult acne symptoms in women. It is also advantageous for treating adult acne in women, especially in menopause and perimenopause.
Spironolactone is a diuretic (water pill) and belongs to the class of potassium-sparing diuretics. After consuming Spironolactone, it prompts the kidneys to filter extra body water that increases urination. It is also effective in treating various other conditions like reducing hypertension or high blood pressure. After consumption, it prevents absorption of excessive salt and does not allow the loss of potassium from the body.
Treats swelling caused by excessive trapped body fluid (Edema)
Unwanted hair growth on woman's body and face (Hirsutism)
How Does Spironolactone Work for Acne?
Spironolactone blocks androgens and progesterone from binding to oil glands on the skin and prevents excessive oil production that leads to acne.
After consuming Spironolactone, the production of Androgen Hormones (Testosterone & Dihydrotestosterone) lowers. These hormones produce extra skin oil that blocks the facial pores, thus causing acne or pimple.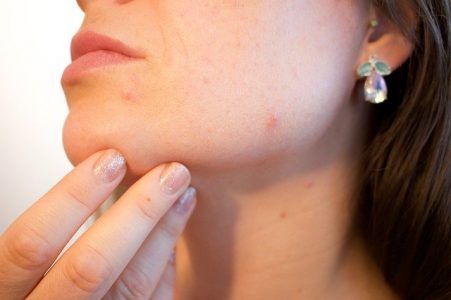 Medical sciences have shown that though androgen hormones promote masculine characteristics, women require these hormones for routine body functions.
Spironolactone is also effective for women suffering from Cystic Adult Acne. Cystic Adult Acne is a pimple not seen on the top of the skin but dwells deeply on its surface. The skin pores get blocked in this condition. Usually, cystic acne is visible on the chin or jawline. Without proper treatment, this acne gets infected.
Spironolactone shows a very positive result for the women with following adult acne conditions:
Uncontrolled Adult Acne: Despite various topical medications, acne is not in control.
Avoid Hormonal Birth Control: Women who favor avoiding hormonal birth control treatments.
Hormonal Replacement Therapy (HRT): Acne caused by HRT (Testosterone).
Menstrual Cycle Hormonal Acne: Many women suffer from hormonal breakouts concerning their menstrual cycle.
Recurrent Adult Acne: When you discontinue the oral antibiotics, acne reoccurs.
Acne Affecting Body: Some women might have a condition of acne covering large body parts along with facial acne.
Pregnant women should avoid Spironolactone consumption. The testosterone levels of a male fetus could be directly affected because Spironolactone has feminizing effects.
The studies have shown that Spironolactone takes some time to work. Usually, it takes around 6 to 12 weeks to gauge its effects. The effect is not immediate.
The recommended dosage of Spironolactone for adult acne is 25 to 200 milligrams per day. (Please refer to Medical Practitioner before consumption). The patients should commence the treatment with the lowest possible dosage and, over a while, can increase if necessary. Usually, it takes approximately 2-3 months to get visible effects on acne.
There can be various changes to the dosage regime. You can use Spironolactone with other acne treatments. If you cease the adult acne treatment, the body will behave as per its natural genetics, and acne might return.
What to Know Ahead Before Taking It?
Before consuming Spironolactone, you should understand certain body conditions. The prescribed period will depend on your medical practitioner and your body's reaction to Spironolactone.
Observe fluid body imbalance concerning electrolyte or acidity, which leads to sleepiness, giddiness, clumsiness, blurry vision, confusion, hypotension, muscle spasms, and headache.
If you are under some other antibiotic acne treatment along with Spironolactone, you must stop the earlier treatment and continue with Spironolactone. Eventually, due to antibiotic resistance, the treatment can become less effective. The main aim of antibiotics is to eradicate bacteria that cause inflammaging or inflammation. After a certain period, these bacteria become antibiotic-resistant.
Spironolactone causes frequent urination as it is a diuretic (a water pill)
Changes in women's menstrual cycle
Breast tenderness
Pulmonary Symptoms: Spironolactone might be allergic to some women, including throat tightness, cough, wheezing, skin rash, and urticarial.
Check your heart rate, ECG, and Sound during exercise. In case of heart palpitations, shortness of breath, chest discomfort/tightness, and fainting, your doctor should report immediately.
Lethargy
Monitor blood pressure in regular intervals for the average values.Headache
Giddiness
Low Libido
Increase In Potassium Levels: It is essential to check your potassium levels regularly; else might lead to Hyperkalemia.
Pregnant women should avoid the intake of Spironolactone. It might lead to congenital disabilities, especially in a male fetus, as it reduces testosterone levels in men.
Once you cease the Spironolactone medication, all the side effects will disappear.
Spironolactone can be highly effective with other acne medications or in singularity. It is one of the affordable medications that do not harm your wallet. Results have proved that Spironolactone completely eradicates stubborn acne in women. But you should have patience.
Consult your medical practitioner before commencing Spironolactone medication. Remember, if you stop taking Spironolactone, adult acne might return.
Voibon Tips
You can consume Spironolactone empty stomach or with food. Some women might encounter stomach upset with an empty stomach. Eat sufficient food and then start Spironolactone.
If you are pregnant, intending to become pregnant, or breastfeeding, avoid taking Spironolactone.
Should report side effects (like bloody urine, bleeding gums, chest pain, bloodstained stools) immediately to the Medical Practitioner.