The skin is the body's outermost organ and is affected by many environmental factors. The way people live their lives has a significant impact on their health, unhealthy lifestyles or habits certainly cause inflammation. What is inflammation like? Your body undergoes inflammation on a regular basis. During the inflammation process, it is your immune system that begins the healing process when it recognizes a foreign invader, such as infectious microbes or cancer cells. When you have a wound or an area of damaged tissue, your body also sends out a response that helps you heal. Your body cannot heal itself without the response of inflammation on the part of your immune system. Raised, red, or rashes are typical symptoms of skin inflammation. The rashes can be blistering or pimple-like, as well as burning, stinging, or itching.
What is Skin Inflammatory?
Your immune system is necessary for protecting your health and well-being. It identifies and eradicates unwanted bacteria that cause disease and malignant cells. When this occurs, inflammation may develop.
Inflammatory skin diseases are distinguished by stimulating the body's immune response and producing antibodies through the generation of cytokines that promote inflammaging. These conditions are referred to as autoimmune diseases and chronic immune syndromes or illnesses.
Similar to other organs, the skin can participate in immune activation. Frequently, rashes develop due to skin inflammation. Typically, it is the immune system's reaction to circumstances such as; infections, hypersensitivity, and interior sickness or condition. You may already know some of the most common things that can cause skin inflammation, such as; psoriasis, dermatitis, and other skin diseases. Psoriasis is one example of a skin condition with an autoinflammatory component and an autoimmune.
Abnormal immunological responses to autoantigens characterize autoimmune inflammatory skin illnesses such as lupus and vitiligo erythematosus. These reactions are governed by T cells and B cells, and they occur in conjunction with the existence of autoantibodies.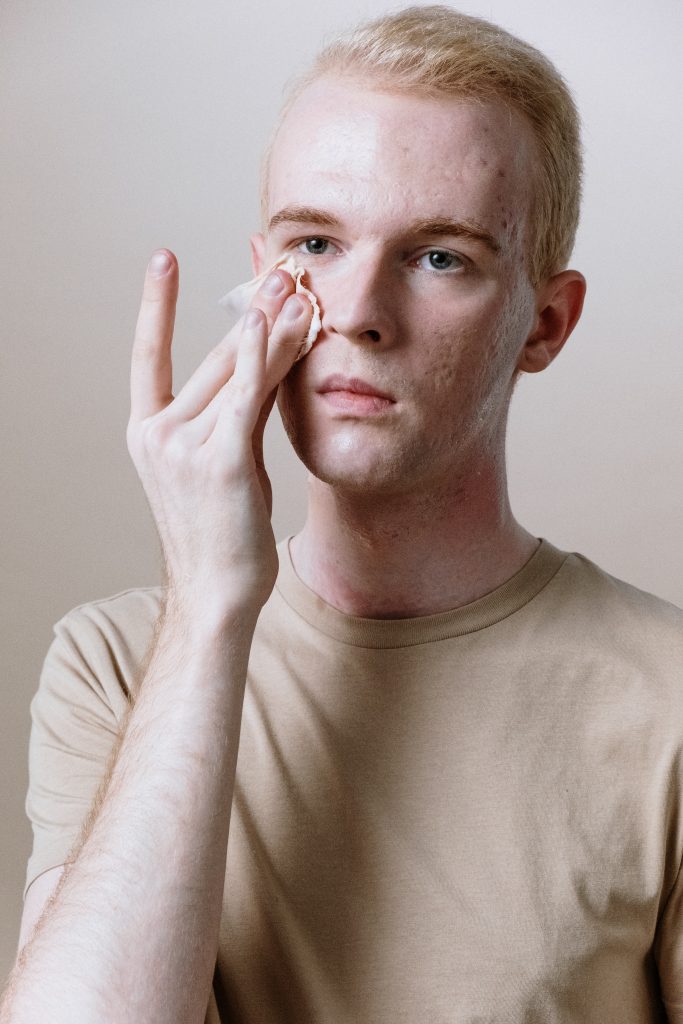 Inflammatory Skin Diseases List
Inflammatory skin problems can result in various uncomfortable symptoms, including embarrassment, acne, frustration, and itching. Hives, psoriasis, and eczema are all skin conditions that can cause itching, scaling, redness, and sometimes pain in the affected area. The following are the most typical inflammatory skin diseases:
Hives are a sudden breakout of itchy, red acne and elevated skin patches. These rashes may occur on the skin as rings, huge patches, or little bumps of varied sizes and forms.
A distinguishing characteristic of hives is their ephemeral tendency to erupt unexpectedly and vary in size and location across the body. Sometimes, the rash might cause swelling around the eyes or mouth. These rashes may continue for a few minutes to several hours, but they typically disappear without leaving scars or signs. While an outbreak of hives may appear worrying, the illness is generally innocuous.
Psoriasis is a type of skin inflammaging that can make the skin red and itchy. The long-term disease is related to the immune system and usually starts in adulthood, but it can happen to people of any age. Many things can cause psoriasis. Another major thing is due to genetics. Psoriasis often runs in families and is often passed down from a parent who has it.
Eczema is a type of skin inflammation in which the skin is itchy, dry, and sometimes red. It is most prevalent among youngsters, but can affect individuals of all ages, even the elderly. The skin barrier is essential because it needs to keep the skin hydrated and keeps allergens out. Dry skin is caused by a skin barrier problem passed down from generation to generation.
What to Know Ahead of Having It?
Hives: Hives develop when the body produces the antibody histamine. Typically, histamine is released upon an allergic response to a substance, food, or insect bite. Blood vessels in the epidermis expand (become broader) and become leaky when histamine is produced. This produces a buildup of fluid inside the tissues and skin swelling.
Psoriasis: The rashes are usually raised and have silvery skin "scales" on them. This occurs when the skin grows faster than it usually would. Most of the time, your skin cells grow slowly and shed every four weeks, revealing healthy skin underneath. People think psoriasis is caused by an abnormal response from the immune system, which causes the skin to become red and flaky. Even without treatment, psoriasis symptoms can disappear, which is remission. However, when the skin is exposed to something, it worsens and flares up.
Eczema: The symptoms are frequent among those whose careers include "wet work," like constant handwashing or chemical exposure. Elderly individuals with age-related dryness or vascular issues in their feet are often more vulnerable to eczema.
Expert's Tips to Those Having Inflammatory Skin Diseases:
Tips for Treating hives:
Don't scratch the rash
Avoid things that worsen it, like sudden temperature changes, too much scrubbing, or "trigger foods."
Take antihistamines if you get hives
If the problem doesn't go away, you should see a doctor.
Tips for Treating Psoriasis:
Use moisturizer regularly to calm the inflammaging of your skin.
Avoid skin injuries, as skin wounds can cause psoriasis patches to form.
Manage anxiety and stress to avoid a flare-up.
Don't take medicines like beta-blockers, nonsteroidal anti-inflammatory drugs (NSAIDs), and lithium.
Tips for Treating Eczema:
Moisturize regularly to prevent dry skin, which is the most significant cause of eczema.
Use steroid creams to treat redness and itching.
Don't take long, hot showers; instead, use lukewarm water.
Use gentle, soap-free shower cleansers; don't scrub the skin acne.
Stay healthy with enough rest, exercise, and a balanced diet.
Don't smoke because smoking is bad for your skin and overall health.
Conclusion
You may do many things to lessen inflammaging, which is the primary contributor to all three diseases mentioned in this article. Some of the most successful ways of treatment include doing routines of self-care at home that are gentle on the skin and taking additional steps that may be done to bring each condition under control. You will learn some options from reading this information. If additional treatment is necessary, you and your dermatologist, an expert on skin conditions, can work together to implement the most efficient treatment plan possible for your skin condition. I hope you learn a lot from the provided information above.