Can acne affect personality? The answer is yes. Acne affects many people more than just their appearance. One's emotional health can be adversely affected by acne. Studies have found that people with acne can also suffer from depression. Some people living with adult acne find it as one of the conditions that restrict their social activities or social life. Self-esteem, confidence, social life, and how they interact with others can be all affected. If you are one of them, you may need to worry no more or less as you are not alone. In order to treat acne, you need to know that different factors may be responsible for the causes and different types of acne, regardless it does not have to be a condition to worry about.
Adult Acne in Social Life
Adult acne has affected different people's social lives and can also hinder an individual's hobby. It has been heard from different people that living with acne made them more self-conscious, especially when it comes to flaring up. However, they have always been trying to ensure that this doesn't prevent them from making or meeting friends. Moreover, they didn't allow it to restrict them from taking part in their choice of hobbies and social life. Apart from having just adult acne, it also comes with some side effects when an individual takes some medications which may impact the social lifestyle. For instance, the inability to take or drink alcohol amid the use of certain medications. It also hinders some hobbies, such as tiredness and aches in the muscle being side effects.
CBD Skincare Products for Adult Acne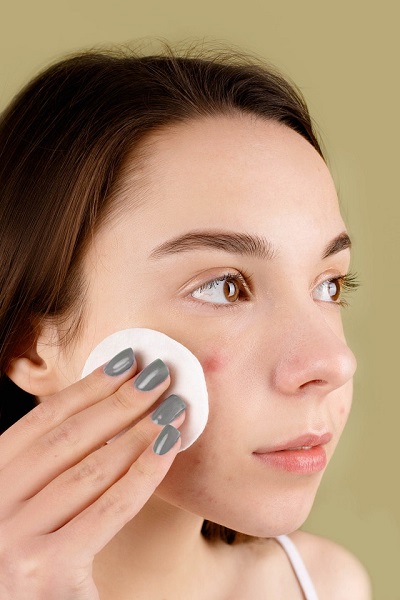 The truth about adult acne is that it is nothing to worry about as different available measures have been put in place to help people get rid of the most stubborn acne on the skin or face. For people living with acne, a couple of CBD-related skincare products have proved to be effective when it comes to getting rid of acne, therefore, there is no need to be bothered about developing acne when you have these skincare products.
However, If you have been living with acne over the years, just be assured that you are not just alone in this. Below, we will talk about some people who have adult acne just like other people, but they do not allow it to hinder their hobbies and social life.
You are Not Alone When it Comes to Getting Rid of Acne
Some people with acne believe it can prevent them from enjoying their social life. However, this is not the case for Chris, a 20-year-old student who began University with acne. Even diagnosed at the tender age of 17, he admitted that having acne can prevent you from meeting new people. He understood that he sometimes feels self-conscious. However, Chris never gave in to these feelings by not allowing the breakouts to overwhelm his enthusiasm for socializing with others. Chris also said he has always remained confident all the time even when he has got acne and always gets along with it.
Adult Acne and Partying
When others with acne think they could not party hard with their acne, Abbie thinks her acne would not break her from partying hard all night. Abbie started having breakouts as early as 13. She admitted that she develops nervous feelings at times when it comes to visiting places or parties. As a result, she loves going to parties where it was dark. At some point, she would prefer to make her hair and make-up to not let people observe the visibility of her acne. However, she decided to not care about her feelings about having acne. She believed acne would be the smallest thing to weigh her down, either emotionally or psychologically.
Another person with acne, Tom, a 15-year-old boy, recounted how he usually feels nervous whenever he needs to socialize at a party especially when his acne grew so bad. He admitted that looking at his friends can sometimes be a terrible thing to do. Even when he was diagnosed early with acne, Tom quickly developed confidence and realized that acne would prevent him from enjoying the beautiful moments of life.
Adult Acne and Photography
Worried about taking pictures with adult acne? Then you have got to meet Kosta, an acne patient who doesn't feel inferior with his condition. Kosta also lived with adult acne and admitted he sometimes does not love having close-up photographs. Being a member of a band, Kosta loves being in the band, but sometimes has awkward feelings when it is time to perform. Kosta later moved on and discovered that having acne is part of life and would never feel inferior to his colleagues.
Also, Harriet does not love taking photographs at events as a result of her acne because of her skin-look under different light. She overcame her worries when she realized that having acne isn't the end of the world and that other people live with it.  Harriet is also a sports lover who loves to swim. Despite the reaction between the pool's chlorine with her acne, she finds it painful, and guess what? She enjoys it and never thought of a second of not swimming. She admitted her adult acne is the last thing to worry about whenever she needs to socialize.
Voibon Tips
Acne should be the least skin condition you should worry about. At one point, acne tends to break out and may take longer to go, even up to adulthood. However, people with acne should not let it weigh them down from taking part in social activities, as having or developing acne does not need to affect one's social life. Although it can sometimes pose bothersome for those living with it, however, with different available skincare products, you can overcome all the worries of acne. Building confidence is a great way to help you feel confident whether you are in a gathering or a closet.