CBD is one element that is getting popular in different industries like healthcare and skincare. The primary reason for its popularity is its ability to help the body regulate most of its functions. Therefore, if your body struggles to perform any task, CBD can support it.
CBD is also widely used in skincare. Anti-aging CBD serums promote healthy skin by offering your body a way to fight against toxic elements and increase the skin's ability to rejuvenate itself. These serums are redefining the skincare industry and helping people eliminate the most common problem, i.e., aging, by simply incorporating it into their daily care routine.
What Does CBD in Skincare Do?
CBD is one of the several cannabinoids found in plants is CBD. The endocannabinoid system or ECS in your body is responsible for naturally producing cannabinoids. These endocannabinoids interact with CB1 and CB2 cannabinoid receptors found all over your body. This process helps your body regulate many functions, such as the immune system, hormones, appetite, sleep, mood, and others. Besides that, it also helps you to rejuvenate and nourish your skin to help you get youthful skin.
Note that with time the production of cannabinoids by the ECS in your body decreases. Therefore, CBD-based skincare products can help you attain cannabinoids in your body and benefit from their function
Do Anti-Aging CBD Serums Work?
CBD offers anti-oxidant properties. Therefore, CBD, present in tropical skincare products, can help you reduce the signs of aging. CBD- based anti-aging serums can visibly reduce skin problems like dullness, wrinkles, and uneven skin tone by reducing the counteracting free-radical damage.
Anti-aging CBD serum not only helps with the anti-aging factor but has a plethora of benefits for your skin. Unlike other anti-aging products, CBD is ideal for sensitive skin. This way, it doesn't cause adverse effects on your face to help you get rid of wrinkles. On top of that, it has soothing properties. CBD's substantial skin-normalizing and skin-calming effects can help minimize skin sensitivity problems, such as reactivity and redness. Since every skin is affected by environmental stressors, its soothing mechanism can keep your skin clear, bright, and healthy.
Best Anti-Aging CBD Serum
Anti-aging CBD serums are getting popular among customers looking for effective and promising skin-aging solutions. These serums contain CBD that helps eliminate problems that cause your skin to look dull and aged. Here are some anti-aging serums that you must not miss out.
Boneffic Ultra Clarify Facial Concentrate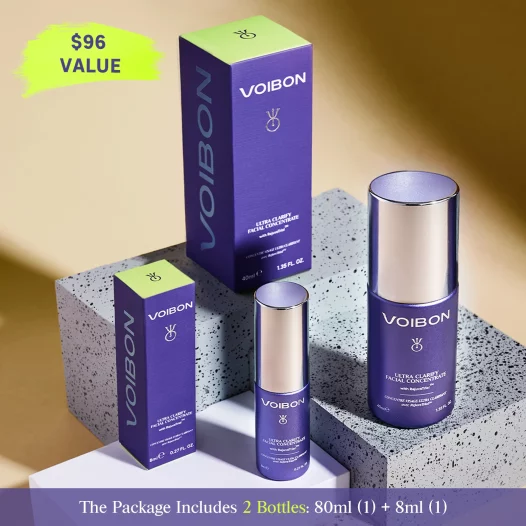 If you are looking for the
best CBD serum
in the market, you need to go for this one. The product has a composition of CBG, CBD, and bakuchiol extracts. Since it's designed for all skin types, people with oily, dry, balanced, and combination can benefit from it.
This fine-quality, aromatic serum can minimize the blemish appearance that often becomes the primary aging factor.
Boneffic Ultra Clarify Facial Concentrate
helps reduce oil oxidation on your skin to keep it nourished, helping improve your skin texture in the long term.
Applying it to your skin will give you an instant cooling sensation. The best part is that this serum is light, so you don't feel irritated after applying it to your skin. If you have oily skin, it can help prevent excessive oil production on your skin. As a result, you can expect a lower risk of breakouts and dullness. Women looking to refine and clear skin texture can use this CBD serum. Consistency is the key, so make sure to use it regularly to benefit from it.
Flora + Bast Age Adapting CBD Serum
This magical serum is made with 24 nutrient-rich active botanicals. It also has CBD, which is super effective and beneficial for the skin. This face serum's formula nourishes, hydrates, and clarifies your skin. But most importantly, it can help fight signs of aging.
Since Verity's
CBD
serum is rich in vitamins A, D, and E, your skin will appear more radiant and firm after applying the serum. Plus, this serum contains a good amount of fatty acids that help rejuvenate every skin type. However, remember that this serum will only offer results if you follow its instructions accurately. Avoid using it with other actives to prevent any side effects.
Vertly Essential Nutrients Face Serum
Hot showers are relaxing and comforting. However, switching to a cold shower for the final ten to thirty seconds could significantly impact your acne and general health.
It lessens the likelihood that fat, oil, and bacteria would accumulate in pores. Additionally, the advantages of cold showers may speed up your recovery and improve your athletic performance.
In a nutshell, a good quality CBD serum designed to prevent aging is a good option for reducing fine lines and the appearance of crow's feet. The best part of these products is that they offer more than just anti-aging benefits. They help with blemishes, redness, uneven skin tone, and other issues.
LET US KNOW YOUR THOUGHTS